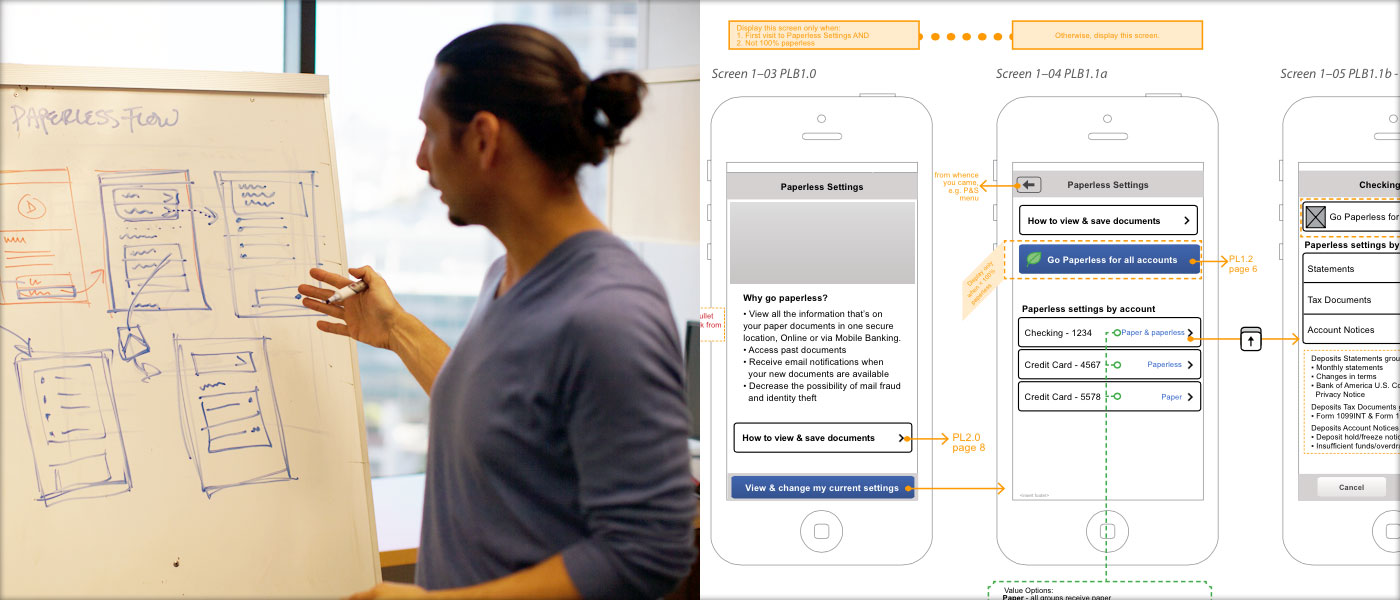 Project Brief
As part of a complete redesign of Bank of America's mobile apps, I was charged with leading the creation of a dozen key customer service elements including:
Help and support tools
Contact us
Self-service functions (e.g. Check deposit, card re-order, stop check payment, etc)
Accounts settings
The project was ambitious in a variety of ways: Aggressive timelines; All tools and interfaces needed to be built from the ground up; and we were tackling all platforms iPhone, iPad, Android and mobile web.
With our mobile design system still evolving, my team worked from a loosely defined set of master patterns. We set out to create 12 new flows – each incorporating anywhere from a handful to a score of unique screens – and we defined several key components of the mobile app navigation systems.
Process
Team
I led a core team of 10 UX contributors working on various aspects our our design and documentation process:
4 interaction designers

2 editors

1 visual designer

1 usability engineer

1 prototyper
We partnered with product management, tech/engineering teams, and marketing group to develop functional requirements and timelines, prioritize key functionality, and set progress benchmarks.
REQUIREMENTS WRITING
With an abbreviated time line and lots of design work to do, we began by defining functional requirements and strategic priorities. UX took a lead role at this stage, elevating focus on customer-centric goals, but the truncated timeline and requirements process led to challenges later as the less-rigorous discovery and planning process brought more hiccups down the road.
Conceptual Design
Starting with collaborative whiteboard sessions, we worked to assess potential UI options, and iterated rapidly with input from across the UX team. Within days we had conceptual wireframes to share and review with engineering and senior product managers. These wires were a starting point and helped drive the design and development process, but were far from the final designs.
Usability Testing
Despite the short timeline, we conducted multiple usability tests - a critical step of our design process and one which, thankfully, turned up a number of key flaws that we were then able to address and resolve. I worked with our usability team to identify key user tasks. I also worked with our prototype developer to ensure accurate presentation of our vision. I also observed the tests in person.
Deliverables
Detailed wireframes
Visual comps, specs and style guides
Usability findings
Conceptual prototypes
Outcome
UX delivered 12 core flows, plus supplemental design documentation. We conducted three usability tests and took part in ongoing design, legal, tech and marketing reviews as part of the approval processes. In the end, the work we created has provided a massive foundation for the new Bank of America mobile banking apps which will be launched later in 2015.